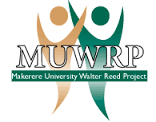 Vacancy title:
Program Manager
Jobs at:
Makerere University Walter Reed Project
Deadline of this Job:
Not later than 18th September 2017
Duty Station:
Kampala, Uganda
View this job from the main website
Job details:
FUNCTIONAL JOB DESCRIPTION:
The Makerere University Walter Reed Project (MUWRP) is non
- profit HIV research program that was established in 2002 as a result of a memorandum of understanding between Makerere University and The Henry M. Jackson foundation for Advancement of Military Medicine inc. of USA (HJF). The primary purpose of MUWRP is to mitigate disease threat through quality research, health care and disease surveillance. Under our mandate, we have entered in a collaboration with The Joint Mobile Emerging Disease intervention Clinical Capability (JMEDICC), an effort that is established to support the acquisition and fielding of a test and Evaluation capability for the US Food and Drug administration (FDA) approval of therapeutic medical countermeasures being developed by the DoD. The collaboration will implement an immediate, mobile response capable of conducting FDA regulated clinical trials of therapeutic or diagnostics during an outbreak event. MUWRP is now looking for a suitable candidate to fill the position below:
JOB SUMMARY: The candidate will serve as Program Manager under the immediate supervision of MUWRP Executive Director. The Program Manager will be responsible for the overall management and implementation of the JMEDICC program including management of program personnel, budget and resources, as well as close coordination with the study clinical lead, study coordinator, Uganda organizations, and international partners to ensure all components are successfully completed. This position is will be based in Kampala with frequent travels to Fort Portal. The candidate will work under MUWRP guidelines and policies.
ESSENTIAL DUTIES AND RESPONSIBILITIES
Clinical Research Management:
Oversee all MUWRP's JMEDICC operations including protocol and SOP development, training and implementation of protocols from patient enrollment to successful data capture.




Develop and drive program plans keeping MUWRP and JMEDICC leadership informed of progress.




Ensure standards of ICH/GCP, GCLP are practiced and SOPs are followed




Ensure all Ugandan and USG regulations are followed.




Act as a liaison between MUWRP and other agencies involved in JMEDICC activities locally and internationally.




Provide leadership and overall supervision of the research study operations.




Manage all site operations including management of program staff, performance, renovations, logistics, supplies and equipment, security and personnel issues in conjunction with the study coordinator and relevant MUWRP departments.




identify training needs and foster a productive team environment




Work closely with MUWRP administration to develop, execute and manage program budgets.




Prepare program presentations and reports as required




Build strong relationships with primary implementing partners in Uganda and Government of Uganda and other in-country stakeholders.




Maintain good relationships and open communication with U.S. counterparts.




Function independently, but escalate items as needed for higher level visibility, input, or action.




Complete other tasks as needed.




Provide systematic reports to review progress oi activities to inform MUWRP and JMEDICC management
REQUIRED EDUCATION
5 years post MBchB or a first degree in other health related profession




3-5 years post MPH or MSC degree




3-5 years' experience in project planning and management
Required Knowledge, Skills, and Abilities
Demonstrated ability to implement high quality clinical research studies.




Demonstrated experience managing in-country partners, stakeholder relationships, and team of technical and administrative staff.




Ability to facilitate discussions of complicated, multifaceted issues and clearly communicate the decisions, implications, and actions in easy to understand ways.




Ability to build mutual respect and cooperative relationships with highly skilled partners, such as physicians and scientists.




Ability to inspire action from groups or individuals not in direct chain of command. Ability to excel in fast-paced, changing, and challenging environments and to quickly adapt to new technology and tools.




Ability to multi-task and respond creatively to trends, challenges and changes in the field.




Strong written and oral communication.




Solid organizational and analytical skills, highly organized, detail -

oriented and self-motivated.




Outstanding MS Office skills.




Ability to travel as required to Kampala and other sites as needed on a regular basis.
Physical Ability
The ability to travel frequently between Fort Portal and Kampala and other locations as needed.




Supervisory Controls: The candidate will report to the Executive Director.
Job application procedure
interested candidates should download application forms from www.muwrp.org, website, fill and submit them together with their Application letter, Photocopies of academic qualifications and Curriculum Vitae with 3 referees and send to:
The HR &Administration Manager -
Makerere University Walter Reed Project
Plot 42 Nakasero Road.
P. O. Box 16524 Kampala.
Not later than 18th September 2017
Only shortlisted candidates will be contacted.