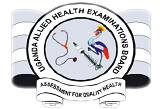 Vacancy title:
Records Officer/ Statistician
Jobs at:
Uganda Allied Health Examinations Board (UAHEB)
Deadline of this Job:
not later than 25th September 2017
Duty Station:
Kampala, Uganda
View this job from the main website
Job details:
Uganda Allied Health Examinations Board (UAHEB) was established in 2009 by the BTVET Act 2008. The Board is mandated to streamline, harmonize, regulate and coordinate examinations and awards in the Allied Health Profession. Our primary function is to conduct examinations for all the Allied Health Training institutions in the Country.
The Board seeks to recruit qualified and competent persons to fill the following vacancies at the Secretariat:
Job Title: Records Officer/ Statistician
Salary Scale: UAHEB 8
Job Ref: UAHEB/ADMIN 03/2017
Terms of Service: Comtract
Purpose of the job:
To provide proper management and analysis of UAHEB data for informed decision making.
Minimum Qualifications:
An Honours Bachelors degree in ICT, Statistics or Records and information Management from a recognized organization.
Working Experience:
At least three years working experience in the same or related position in a public or reputable private institution.
Key competences:
Good interpersonal skills




Good analytical skills




Strong communication skills




High level of integrity and confidentiality.




Proven ability in records management
Duties and responsibilities:
Engage in the development of mathematical theory or apply statistical theory and methods to collect, organize, interpret, and summarize numerical data to provide usable information.




Designs, implements and administer specialized system for managing records;




integrate records management into Board systems and processes;




Coordinates and facilitates consultations with stakeholders to define system requirements for new technologies and implementation;




identifies information requiring capture, classifies, stores and retrieves it,




Developing a records storage plan, which includes the short and long-term housing oi physical records and digital information;




Coordinate access to records internally and outside of the organization, balancing the requirements of business confidentiality, data privacy, and public access;




Evaluate staff reports, utilizing knowledge of principles of records and information management, administrative processes and systems, cost control, governmental record keeping requirements, and organizational objectives;




Analyze and interpret statistical data in order to identify significant differences in relationships among sources of information.
Job application procedure
Applications accompanied by relevant academic documents, detailed Curriculum Vitae and contact details of three (3) referees should be delivered not later than 25th September 2017 to the following address;
The Executive Secretary
Uganda Allied Health Examinations Board j
Plot 920 Kisosonkole Zone-Upper Estate Parish '
Kyambogo
P. O. Box 22733, Kampala, Uganda