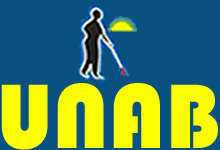 Vacancy title:
Executive Director
Jobs at:
Uganda National Association of the Blind ( UNAB )
Deadline of this Job:
27thOCT 2017 AT 5.00 P.M
Duty Station:
Kampala, Uganda
View this job from the main website
Job details:
Uganda National Association of the Blind ( UNAB ) is an indigenous umbrella non-governmental organization of the blind and visually impaired persons. UNAB was founded to act as a voice ol the blind persons and to provide specialized services for blind and visually impaired persons in 1970. The vision of the association is to be a sell-sustaining association of empowered persons with visual impairment enjoying equal opportunities in society. And the mission is to better the quality of me of the blind in Uganda regardless of sex and age through advocacy, networking, capacity building and model service provision. UNAB would like to fiil the vacant position of the EXECUTIVE DIRECTOR. UNAB is an equal opportunity employer.
JOB RESPONSIBILITIES
The Executive Director is the key management Leader of UNAB. The Executive Director reports directly to the Board of Directors and is responsible for the organizations consistent achievement of its vision, mission and objectives and overseeing the administration, programs and strategic plan of the Association. Other key duties Include fundraising and in program development and administration, the Executive Director will:
Specific responsibilities:
Ensure that the organization has a long-range strategy which achieves its mission, and toward which it makes consistent and timely progress.

Be responsible for leading the association in a manner that supports and guides the organization's mission as defined by the Board of Directors.

Take lead in developing program, organizational and financial plans with the Board of Directors and staff, and carry out plans and policies authorized by the hoard.

Promote active and broad participation by volunteers in all areas of the organizations work.

Maintain official records and documents, and ensure compliance with laws, policies and regulations.

Maintain a working knowledge of significant developments and trends in the field.
In communications, the Executive Director will:
See that the board is kept fully informed on the condition of the organization and all important factors influencing it

Be responsible for the enhancement of UNAB's image by being active and visible in the areas of operation and by working closely with other stakeholders and PWDs.

Establish a sound working relationship and cooperative arrangements with community, membership, groups and organizations.

Represent the organization to agencies, organizations. and the general public

Jointly, with the chairman and secretary of the Board of Directors, conduct official correspondence of the organization.
in relation with staff, the Executive Director will:
Ensure that job descriptions are developed that regular performance evaluations are held, and that sound human resource practices are in place.

See that an effective management team, with appropriate provision for succession, is in place.

Encourage staff and volunteer development and education and assist program staff in relating their specialized work to the total program of the organization.

Maintain a climate which attracts, keeps, and motivates a diverse staff of top quality people.
in budget and finance, the Executive Director will:
Be responsible for developing and maintaining sound financial practices.

Work with the staff, Finance Committee, and the board in preparing budget see that the organization operates within budget guidelines.

Ensure that adequate funds are available to permit the organization to carry out its work.

Responsible for fundraising and developing other resources necessary to support true UNAB mission.
QUALIFICATIONS
A minimum of Bachelor's Degree in humanities or relevant field with not less than 3 years' experience in senior managerial positions. Possession 01 post graduate qualifications and having been working with disabled people's organizations is an added advantage. Persons with disabilities are encouraged to apply.
COMPETENCIES AND SKILLS
Proven track record in developing and implementing programmes.

Strong organizational abilities including planning, program development, prioritization and time management skills

Knowledge of fundraising strategies and donor relations is key.

Ability to interface and engage diverse volunteer and donor groups.
Job application procedure
APPLICATIONS SHOULD BE ADDRESSED TO THE CHAIRMAN HUMAN RESOURCE COMMITTEE, P.0 BOX 6938, KAMPALA OR HAND DELIVERED TO UNAB HEADQUARTERS KIREKA ALONG NAMUGONGO ROAD.