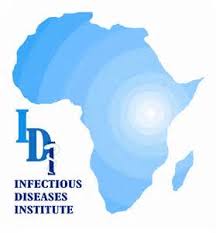 Vacancy title:
Programme Manager
Jobs at:
Infectious Disease Institute (IDI)
Deadline of this Job:
not later than 4th December, 2017
Duty Station:
Kampala, Uganda
Job details:
The mission of the Infectious Disease Institute (IDI) is to "Strengthen Health Systems in Africa with strong emphasis on infectious Diseases through Research and Capacity Development". IDI has five operational areas through which it works to achieve its mission: Prevention, Care and Treatment, Training, Research, and Outreach programs.
With funding from Centers for Disease Control and Prevention (CDC/PEPFAR), IDI is the lead implementing partner for the Kampala Region HIV project titled, "Accelerating epidemic control in Kampala region of Uganda under the President's Emergency Plan for AIDS Relief through scale up of evidence based and high impact interventions towards achievement of UNAIDS 90:90:90 targets." To implement this project, IDI is partnering with NASTAD (National Alliance of State and Territorial AIDS Directors), an international non-governmental organization working in Uganda to strengthen the health system by building sustainable leadership and technical capacity in HIV and other health-related programs to benefit the community.
As part of continued scale up of activities for this project in Kampala Region, lDl, in partnership with NASTAD, is soliciting applications for the following position:
Job Title: Programme Manager- NASTAD (Code: PMNSTX1)
Duty Station: IDI Offices, Kampala
CLASSIFICATION: Fixed-term (Contract),Full-time
REPORTING TO: Project Director/PI and NASTAD Country Lead
General Summary:
NASTAD Global and IDI will support the development and implementation of two interventions in this project, Partner Services and electronic Patient Linkage and Retention (e-PLR), which will contribute to identifying undiagnosed people living with HIV and tracking retention in HIV care and adherence to antiretroviral therapy. NASTAD, with IDI's partnership, seeks to hire a National Program Program Manager will be responsible for overall coordination of Partner Services and (e-PLR) activities in Uganda, reporting to and working with direction and support from the NASTAD Global Uganda Country Lead. The Program Manager will contribute to planning and implementation of activities, including the development of a work plan, timeline and budget, project reports, updates and continuation proposals, and attending related meetings. The Program Manager will also facilitate collaboration and communication between NASTAD, IDI, Districts Health Offices, and other partners on this project. The Program Manager collaborates with the NASTAD County Lead to coordinate all aspects of the program and assures the delivery of technical assistance and required deliverable outlined within the work plan.
This position requires a highly motivated individual with diverse technical knowledge, strong program coordination and organizational skills, and experience working in HIV prevention, care and treatment interventions in Uganda. S/he must be able to function independently, communicate consistently to receive support and direction, be a sell-starter, dedicated, and have a strong commitment to excellence. S/he should also exhibit important personal qualities, including resourcefulness, responsibility, tenacity, independence, energy, and work ethic.
Educational Requirements:
Minimum qualification is a Bachelor': Degree in Medicine and Surgery (MBDhB) from a recognized university and an Advanced Degree in Public Health oral related health field. ..

A post graduate diploma in Project Planning and Management will be an added advantage.
Required experience and skills:
A minimum of four years of successful management of public health/Health Systems strengthening HIV & AIDS projects.

Demonstrated familiarity with the functioning of the decentralized Local Government System of Uganda.

Knowledge of PEPFARIUS Government programming policies and regulations, procedures and practices, which bear on project management in support of cooperative agreements.

In-depth knowledge and experience with issues around the HIV/AIDS response.

Project planning skills and a good understanding of sub—granting systems to local governments.

Strong oral and written communication skills.

Excellent interpersonal skills including the ability to work with the District Health Offices and supported Health Facilities.

Experience working with and supervising large numbers of professional and support staff.
Duties and responsibilities:
Provide leadership and technical and management responsibility for project implementation, including project activity supervision,

Manage quality and timely reporting to the donor and other project stakeholders.

Develop work plans, budgets and narratives as required.

Coordinate NASTAD activities and services in line with funders and MoH guidelines.
Job application procedure
Qualified and interested persons that have relevant experience, know that they meet the above criteria and have what it takes to excel in the above positions should please send their application letters with clear details of email address, current telephone number/s, copies of certificate/testimonials and address of three (3) professional referees to the undersigned not later than 4thDecember, 2017.
Please Note: Only shortlisted candidates will be contacted.
The Senior Human Resource Manager
Infectious Diseases Institute
P.O Box 22418, Kampala
Email: hr@idi.co.ug