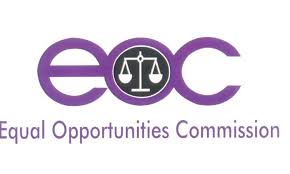 Vacancy title:
Senior Accounts Assistant
Jobs at:
Equal Opportunities Commission ( EOC )
Deadline of this Job:
Not later than 30th November, 2017 by 5:00pm
Duty Station:
Kampala, Uganda
View this job from the main website
Job details:
The Equal Opportunities Commission ( EOC ) established by the Equal Opportunities Act of 2007 is mandated to provide a framework for redressing imbalances, which exist against the marginalized groups while promoting equal opportunities for all.
Post: Senior Accounts Assistant
Ref: HRM/EOC/2017/04
Salary: EOC5
Reports to: Senior Accountant
Terms of Appointment: Three (3) years renewable contract upon satisfactory performance
Key Results Areas
To provide custody for accounting records and documents.

To process deterred lax payments, tax returns and keep records thereof.

To post financial transactions, cashbooks, subsidiary ledgers to General ledger and maintain up-to-date record of the hooks of accounts.

To prepare and reconcile payroll transaction reports.

To enter transaction into the commitment control register.

To keep custody of cash/imprest, effect payments, and maintain up-to-date cash book records.

To prepare draft monthly reconciliation reports.

To prepare voucher according to payment requested.

To record and capture data on the system.

To improve information on Electronic Funds Transfer and, execute payment to the beneficiaries.

To prepare payment advice forms, received non tax revenue collections, impress, compile returns and prepare monthly accountability.

To post vote books and subsidiary ledgers

To receive, sort, file accountability returns and keep custody of accounting documents.

Any other duties assigned from time to time
Qualifications
minimum of a Bachelor's Degree in Finance or Accounting or equivalent

Professional trainings of CPA ll or ACCA ll is an added advantage

A minimum of two (2) years relevant working experience at the level of Accounts Assistant or equivalent from a reputable organisation
Applicants for the above post should have the following Core Competencies: Demonstrating objectivity, integrity, and ethical behaviour, Problem solving and decision-making skills, innovative and creative thinking, ability to work productively with individuals in diversity of roles and with varying interests, Knowledge of finance and accounting packages, Excellent command of spoken and written English, Communication and interpersonal skills, Strong IT and computer proficiency skills, Results and team-oriented, Ability to work under tight deadlines.
Job application procedure
The Commission is hereby Inviting applications from suitably qualified Ugandans to fill the vacant posts declared below: Public Service Form 3 (2008) should be submitted with the following attachments in triplicate: a handwritten application, detailed curriculum vitae (one of the two referees should be the applicant's employer), copies of academic transcripts, certificates and three recent passport size photographs. Shortlisted applicants shall be requested to present certified copies or originals of their academic transcripts and certificates at the time of sitting the oral interviews.
The application forms are obtainable from the Public Service Commission Offices, 2nd Floor, Farmers House, Kampala, or can be downloaded from the Public Service Commission (PSO) website: www.psc.go.ug or at the Equal Opportunities Commission (EOC) Offices, Plot 7. Luthuli Close-Bugolobi.
Applications should be addressed to The Ag. Secretary, Equal Opportunities Commission, P.0 Box 27672, Kampala and submitted Not later than 30th November, 2017 by 5:00pm. The advert may also be accessed on Equal Opportunities Commission Website www.eoc.go.ug .The post applied tor, together with the lob reference should be indicated on the right hand top corner of the envelope. While we thank all applicants for showing interest, only shortlisted applicants will be contacted, in case of any clarifications, applicants can call on telephone number: 0414 223 234