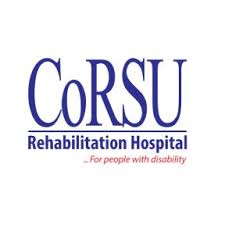 Vacancy title:
Anaesthetic Officer
Jobs at:
Comprehensive Rehabilitation Services for People with Disability in Uganda
Deadline of this Job:
5thJanuary 2018 at 5:00PM
Duty Station:
Kampala, Uganda
JOB DETAILS:
Comprehensive Rehabilitation Services for People with Disability in Uganda people with disability) was established in 2006 as a private non-profit, non-governmental organization and is supported by CBM (Christian Blind Mission).
CQRSU Rehabilitation Hospital and Rehabilitation Centre on Entebbe Road provides Orthopaedic Surgery, Plastic Surgery and Rehabilitation, mainly for children with disability.
CoRSU Hospital is urgently looking for young and dynamic potential professionals in the following fields:
Post: Anaesthetic Officer
Reports to: Team leader Anesthetic Unit or Medical Director
Objective of the Position:
To provide evidence-based, safe, high quality preoperative care and anaesthesia for all patients requiring surgery at CoRSU Hospital.
Duties and Responsibilities
Assess all patients preoperatively either in OPD or on the ward and document accurately on the anaesthetic chart and explain all anaesthetic procedures precisely.

Organize preoperative investigations ii required and check results prior to surgery.

Discuss all problem patients with the anaestheslologist in charge and communicate effectively with the surgeon.

Check that all equipment in theatre is functional before starting the list and ensure adequate emergency oxygen supply is available.

Administer a safe, pain free anaesthetic which is documented fully on the anaesthetic chart.

Monitor closely patient reaction to anesthesia and surgery.

Prescribe intravenous fluids for the immediate postoperative period if required.

Advise the surgeon on appropriate postoperative analgesia and doses.

Actively participate in the postoperative recovery care in the PACU.

Review all patients postoperatively.

Review patients on the HDU when requested.

Attend the hospital CME meetings and morbidity! mortality meetings.

Participate in regular departmental CMEs.

Assist with hospital CPR training.

Make sure each theatre is stocked with appropriate equipment and informing the head of department if store stocks are running low.

Maintain cleanliness of anaesthetic equipment.

Communicate all problems with equipment in a timely fashion to the Head of Department.
Qualifications, Skills and Experience:
A higher Diploma in Anesthesia from a recognized institution with a background training as Clinical officer

Must have 1 years post training experience

Must be registered with the Allied Health Professionals' Council and possessing up-to-date registration and annual practicing license
Capable people with disabilities who qualify are encouraged to apply and indicate their form of disability.
Job application procedure
Qualified persons should submit their applications (detailed CV with covering letter plus copies of Academic Qualifications) to The Head of Human Resources, CoRSU Hospital P. O. Box 46, Kisubi or email to; hr@corsu-hospital.org Note that only shortlisted candidates will be notified for interviews.