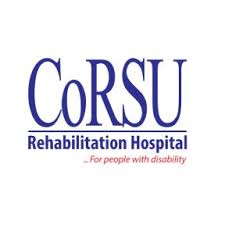 Vacancy title:
Child Safeguarding focal person
Jobs at:
Comprehensive Rehabilitation Services for People with Disability in Uganda
Deadline of this Job:
5thJanuary 2018 at 5:00PM
Duty Station:
Kampala, Uganda
JOB DETAILS:
Comprehensive Rehabilitation Services for People with Disability in Uganda people with disability) was established in 2006 as a private non-profit, non-governmental organization and is supported by CBM (Christian Blind Mission).
CQRSU Rehabilitation Hospital and Rehabilitation Centre on Entebbe Road provides Orthopaedic Surgery, Plastic Surgery and Rehabilitation, mainly for children with disability.
CoRSU Hospital is urgently looking for young and dynamic potential professionals in the following fields:
Job Ttle: Child Safeguarding focal person
Reports to: Head of Cutreacb, Partnerships and Advocacy.
Objective of the Position
Ensure there are child safeguarding policies, procedures, systems, structures, resources and personnel in place to promote the welfare and protection of children.
To support the hospital management in providing children's social and welfare services at the hospital.
Duties & Responsibilities
Conduct risk assessments (audits) for activities involving children and develop mitigation procedures/actions in collaboration with heads of departments to improve safeguarding awareness and practice

Develop relevant Child safeguarding procedures, activities and educational materials.

In conjunction with HR office, participate in the development and delivery of safeguarding/child protection training for staff.

Respond appropriately to disclosures or concerns which relate to the well-being of a child.

To maintain accurate records of case management of individual child abuse cases.

As appropriate, to act as lead focal person and coordinate children's focus group discussions! meetings.

To maintain and update active links with the Police, Children at Risk National Collaboration of Christian Agencies in Uganda (CaRNAC) and other organizations involved in child safeguarding activities.

Liaise with various departments involved in client rehabilitation whenever required.

To signpost available support services for children who require it and have been discharged.

Work closely with the Teacher to ensure that the play areas in the various departments have adequate children play materials.

Design and promote play therapy in collaboration with the Teacher and other relevant units and departments.

Review and recommend to the SMT any safeguarding related guidelines for implementation.

Prepare a quarterly report on child safeguarding. Keep OWH knowledge of safeguarding practice up-to-date by attending relevant training opportunities.
Qualifications, Skills and Experience
Bachelor's degree in Social Work and Social Administration community Psychology or it's equivalent.

3 years' experience in undertaking child Safeguarding/protection roles

Sound knowledge and understanding of child safeguarding/protection procedures and related legislation

Computer knowledge and documentation skills

Knowledge of rehabilitation of people with disabilities especially children
Capable people with disabilities who qualify are encouraged to apply and indicate their form of disability.
Job application procedure
Qualified persons should submit their applications (detailed CV with covering letter plus copies of Academic Qualifications) to The Head of Human Resources, CoRSU Hospital P. O. Box 46, Kisubi or email to; hr@corsu-hospital.org Note that only shortlisted candidates will be notified for interviews.