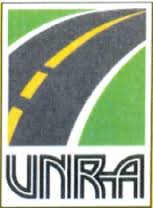 Vacancy title:
Director Procurement
Jobs at:
Uganda National Roads Authority (UNRA)
Deadline of this Job:
5pm on 08th January 2018
Duty Station:
Kampala, Uganda
JOB DETAILS:
The Uganda National Roads Authority (UNRA) was established by an Act of Parliament; The Uganda National Roads Authority Act, N0. 15 of 2006. UNFPA became operational on 18th July 2008. The mandate of UNRA is to develop and maintain the national roads network, advise Government on general roads policy and contribute to addressing of transport concerns, among others.
Our Vision is "Great roads, Great user experience" 20,000km of first class roads by 2025. The mission is to efficiently develop and maintain a safe and sustainable national road network for the economic development of Uganda.
Uganda National Roads Authority, now invites applications from suitably qualified Ugandans who fully meet the required job specifications and with the right personal attributes to occupy the following position in the Authority's established structure.
Job Title: Director Procurement
Reports to: Executive Director
Supervises: Procurement Manager Works
Procurement Manager Services
Procurement Manager Supplies
Procurement Manager Process Assurance
Role Definition
The Director is the Head of the Procurement and Disposal Unit of the Uganda National Roads Authority and is responsible for planning and managing the Procurement and Disposal Functions of the Authority, in line with the Public Procurement and Disposal of Public Assets (PPDA) Act and regulations, Development Partner procurement rules and regulations and respective Financing Agreements.
Key result Areas
Perform the functions of the Procurement and Disposal Unit in accordance with Sec 31 and Sec 32 of the PPDA Act V




Plan, set benchmarks tor the procurement process and manage the function in line with the PPDA and Development Partner Financing Agreements;




Coordinate the process of preparation of Annual Consolidated Procurement Plan and departmental Procurement Plans based on the approved budget and within the required timelines to ensure timely completion in line with the UNRA Business Plan and statutory performance agreement;




Periodically review the internal procurement policies, practices and procedures to ensure relevance with UNRA's Business strategy;




Prepare bidding documents in liaison with the user department(s), implement actions of the Contracts Committee, issue approved contract documents, guide, facilitate and review the evaluation process and due diligence processes in line with the PPDA standards;




Develop and maintain accurate systems to follow up and implement decisions of the Contracts Committee on all procurements in line with PPDA regulations;




Timely processing of submissions to Contracts Committee, and strict adherence to procurement Schedules in line with PPDA;




Develop and manage the Procurement and disposal documentation process, storage system and registries for procurement related documents and records in line with the PPDA Act and Regulations and UNRA's Records Management guidelines;




Prepare procurement and disposal reports; Supervise the delegated procurements at stations and regions, and coordinate due diligence exercises;




Respond to internal and external audit queries; develop and implement a system of managing risks in the procurement process and develop risk mitigation measures;




Supervise and manage the performance and development of staff in the directorate in line with UNRA's goals, objectives, policies and regulations.




Providing specialist advise and guidance on best procurement practice across the organisation.




Lead in the identification, assessment and management of potential risks associated with Procurement and differing sourcing strategies.




Preparing regular reports which explain progress against targets and the Procurement Team key performance indicators.




Ensuring improved bidder confidence through improved stakeholder management strategies.
Required Education and Qualifications
Master's degree in Public Procurement, or Law, or Civil Engineering, or Business Administration is a MUST




An Honors degree in Procurement, or Law, or Civil Engineering from a recognized University




Possession of Professional Certification in CIPS or ISM or APICS, is a MUST.
Experience and Knowledge
A minimum of (10) years hands on experience in Procurement at management level in a similar and reputable organization.




She/He should be familiar with PPDA Law.




Experience in procuring donor funded projects, specifically African Development Bank (ADB), World Bank, Islamic Development Bank, JICA, European Union (EU) and BADEA.




Experience in procurement of works particularly relating to upgrading of roads from gravel to bituminous standard is an added advantage.




Demonstrated strategic leadership experience in managing an Organization/Directorate/Department /Business unit with diverse professions in a high spend organization.




Demonstrated experience in the project lifecycle management




The candidate should be between 40

- 50 years of age.
Character
Ability to work as part of a team and to develop subordinates.




Excellent interpersonal, particularly staff management relations, oral and written communication skills.




Strategic thinking and ability to work and produce accurate results in an environment with multiple and challenging tasks.




High Level of Integrity
Female candidates are encouraged to apply.
Job application procedure
UNRA will only consider online applications submitted through our website or through our Mobile App UNRA SPEED APP. interested persons are requested to visit the UNRA website https://www.unra.go.ug and follow the link Careers to view details and apply for the available opportunities.
APPLICATION DEADLINE:
The deadline for submission of applications will be 5pm on 08th January 2018.
NOTE:
Only online applicants will be considered.




Academic documents for the successful candidates will be vetted and background checks conducted before they are considered for appointment into the Authority.




Only shortlisted applicants will be invited for interviews.




The successful candidate will be published on UNRA website. Applicants whose names shall not appear on the website should consider themselves unsuccessful.




Canvassing or lobbying by applicants will lead to disqualification.




Candidates who present forged documents/ testimonials will be arrested and prosecuted.




All shortlisted candidates will undergo a due diligence process.
UNRA is an equal opportunity employer. Applicants are not required to pay any money for the processing of their applications"
EXECUTIVE DIRECTOR
UGANDA NATIONAL ROADS AUTHORITY.