Vacancy title:
Over 100 Jobs (External Advert)
Jobs at:
Health Services Commission
Deadline of this Job:
not later than 19th January 2018
Duty Station:
Uganda
JOB DETAILS: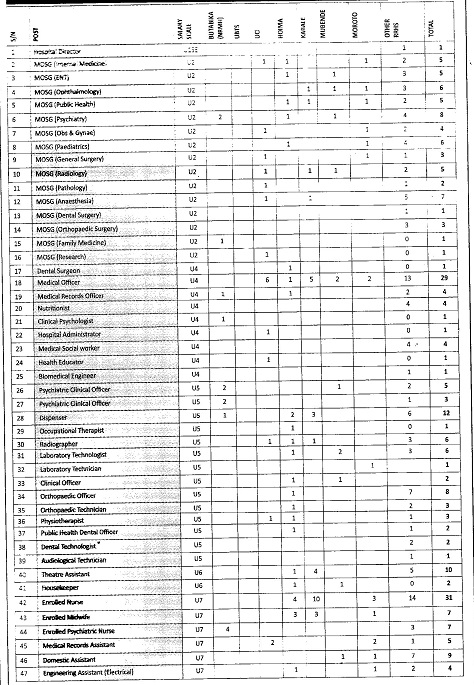 Job application procedure
Applications are invited from suitably qualified applicants to fill vacant posts tenable at Butabika National Referral Mental Hospital (BNRMH), Regional Referral Hospitals (RRHs) Uganda Cancer Institute (UCI) and Uganda Blood Transfusion Services (UBT5). The Application should be filled ONLINE at www.hers.ug and submitted to the Secretary, Health Service Commission not later than 19th January 2018. The link to the E-recruitment system can also be accessed from the Commission's website on www.hsc.go.ug
1. Applicants are advised to:
- Complete PSF 3 and keep it for future reference. '
- Secure a scanned passport size photograph (JPEG format).
- Scan all relevant documents.
- Open an email address in case you do not have.
2. Relevant Documents include the following:
- Copies of academic and professional certificates (UCE, UACE, Professional Certificates, Diplomas, Degrees, Fellowships),
- Evidence of training in specialized areas where applicable,
- Copies of letters of appointment (including promotional if applicable) and confirmation letters as may apply,
- Copies of registration certificate and valid practicing licenses (December 2017) for health workers who are required by law to register with relevant professional councils,
- Copies of National and current Institutional Identity Cards.
3. Application Process
- Visit the website www.hers.ug or www.hsc.go.ug and follow the link to hers.ug (Study the information about the advert)
- Go to "lob seekers login" and register
- View the jobs
- Select one job of choice, APPLY ONLINE and upload all relevant documents and SUBMIT.
4. It ls emphasized that:
- The application should be completed and submitted ONUNE.
- Only shortlisted candidates will be contacted.
- Shortlisted candidates shall be required to bring their original certificates, letters of appointment and evidence of active service, at the oral interview. Candidates who will present forged certificates shall be handed over to the Police for appropriate action.
- Health Workers who are on long term training (one year and above) must not apply.
5. Vacancies tenable at Kabale, Moroto, Hoima and Mubende RRHs should be applied for specifically under the respective hospital.
6. ln case of need, you are advised to seek help from the nearest National or Regional Referral Hospital Human Resource Unit. In addition, the Health Service Commission will respond to inquiries by telephone on D414-254378 or 041348501, or email at info@hsc.go.ug, or ers.help@hsc.go.ug
All services of the Health Service Commission are provided free of charge and equal opportunity ls given to all qualified applicants. Please report any form of solicitation to the Secretary, Health Service Commission on Telephone No. 0414-254378, or email secretary@hsc.go.ug
Health Service Commission, Plot 1 Pilkington Road, Workers House 3rd floor, P. O. Box 7452 Kampala- UGANDA, Tel:+256 414 348501, Fax: +256 414 254378. E-mail: secretary@hsc.go.ug