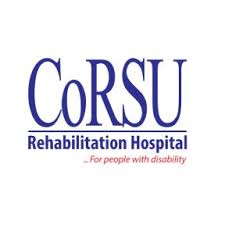 Vacancy title:
Occupational Therapist
Jobs at:
Comprehensive Rehabilitation Services for People with Disability in Uganda
Deadline of this Job:
5thJanuary 2018 at 5:00PM
Duty Station:
Kampala, Uganda
JOB DETAILS:
Comprehensive Rehabilitation Services for People with Disability in Uganda people with disability) was established in 2006 as a private non-profit, non-governmental organization and is supported by CBM (Christian Blind Mission).
CQRSU Rehabilitation Hospital and Rehabilitation Centre on Entebbe Road provides Orthopaedic Surgery, Plastic Surgery and Rehabilitation, mainly for children with disability.
CoRSU Hospital is urgently looking for young and dynamic potential professionals in the following fields:
Post: Occupational Therapist
Reports to: Therapies Team leader
Objective of the position:
Develop and implement appropriate occupational therapy programs for CoRSU clients. These include Activities for Daily living, Upper limb function and control, sensory and perceptual skills, cognition, behavior and social skills training, as well as pre- vocational assessment.
Duties & Responsibilities:
Work with clients on a one-to-one basis, group or special setting based on their levels of function and severity of disability.

Provide occupational therapy consultation, support and update about the clients' progress and status to caregivers and all those involved in the rehabilitation team.

Responsible for quality control of assistive devices or appliances as required by the clients.

Responsible for the use and maintenance of the therapeutic playground.

Refer clients to the respective specialists for consultation and appropriate intervention.

Ensure made on-the-job training for occupational therapists, therapist assistants and volunteers.

Participates in developing and or updating condition specific rehabilitation protocols.
Qualifications, Skills and Experience
Diploma in Occupational therapy

Updated registration and annual practicing license with Allied Health Professionals' Council

Good computer knowledge and documentation skills

Knowledge of rehabilitation of people with disabilities especially children

Good leadership and management skills

Knowledge of Protocols of Therapy Services

Minimum of 3 years clinical experience
Capable people with disabilities who qualify are encouraged to apply and indicate their form of disability.
Job application procedure
Qualified persons should submit their applications (detailed CV with covering letter plus copies of Academic Qualifications) to The Head of Human Resources, CoRSU Hospital P. O. Box 46, Kisubi or email to; hr@corsu-hospital.org Note that only shortlisted candidates will be notified for interviews.