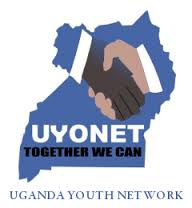 Vacancy title:
7 Management Officers
Jobs at:
Uganda Youth Network ( UYONET )
Deadline of this Job:
Friday 26th January 2018 at 5pm
Duty Station:
Kampala, Uganda
JOB DETAILS:
Uganda Youth Network ( UYONET ) has in the last fourteen years has to its credit, an increased youth consciousness through participation in critical governance process, enhanced visibility of young people occupying leadership positions in various sectors and the proliferation of youth led organizations aimed at making a difference. UYONET has positioned itself as a national leader of youth development in the country, it brings a strength of its 157 member youth organizations that bring young people raging from the villages to the district, regional and national level.
UYONET has just launched its new strategic plan 2018-2028 and in this strategic plan will be working towards building a strong youth movement It's against this background that UYONET is looking out for people passionate about youth development to join them in the following positions.
7 Management Officers
1. Programs Manager Leadership, Policy, Governance and Rights
2. Programs Manager Economic Empowerment
3. Advocacy Communication And Membership Manager
4. Fundraising And Partnerships Manager
5. Accountant
6. Human Resource And Development Manager
7. Design Monitoring Evaluation Accountability And Learning Manager
For full job descriptions, visit www.kazijobs.com
Job application procedure
To apply please send your CV and cover letter with 3 work related referees to the address or email below.
All applications should be marked, "UYONET — POSTION TITLE".
Closing date: Friday 26th January 2018 at 5pm
Email: application@ppg.co.ug
Address: People Performance Group, Plot 8 Kitante Close, P.0. Box 12405 Kampala.
E-mails that exceed 2MB will not be considered.