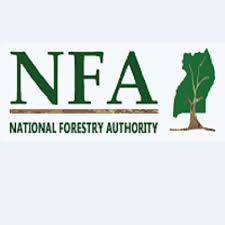 Vacancy title:
Business Development Manager
Jobs at:
National Forestry Authority ( NFA )
Deadline of this Job:
12th February, 2018
Duty Station:
Kampala, Uganda
JOB DETAILS:
The National Forestry Authority ( NFA ) is a Government agency established under the National Forestry and Tree Planting Act, 2003 as a corporate body responsible for sustainable development and management of Central Forest Reserves (CFRs) and provision of technical support to stakeholders in the forest sub-sector. The Vision of NFA is "A sufficiently forested, ecologically stable and economically prosperous Uganda", while its Mission is "To manage Central Forest Reserves on a sustainable basis and to supply high quality forestry-related products and services to Government, local communities." NFA seeks to recruit a qualified Ugandan to fill the post of Business Development Manager
Post: Business Development Manager
Reports to: Director Corporate Affairs
Duty station: NFA Headquarters
Contract Duration: Three years, renewable
Salary scale: NFA 3
Job Summary
The purpose of this position is-to identify, develop, nurture, manage, generate revenue and coordinate income sources, markets and business opportunities for the National Forestry Authority (NFA) in forestry and non-forestry products and services.
Responsibilities and Tasks
Develop and revise guidelines for business promotion and marketing;

Coordinate with other units to develop effective and quality business proposals with competitive service prices and budgets for funding.

Research and analyse new business opportunities and develop the consultancy potential of NFA through marketing and networking with potential clients. .

identify, generate revenue and coordinate income generating activities through consultancy and marketing new business opportunities based on agreed annual targets that will be set jointly and periodically;

Lead multiple professional product teams and run Client Relationship Management programme.

Develop and provide business information and reports for uploading on the NFA website. '
Qualifications. work experience, abilities and personal attributes:
Honours degree in Business Administration or Commerce. A Masters' degree in business administration or any related relevant field e.g. natural resources management, economics; statistics will be an added advantage. Knowledge of Project Planning and proposal writing will also be an advantage.

At least 5 years post-qualification consulting experience and hands on experience with formulating, designing and implementing a sales and marketing strategy in business development, forestry financing, forestry, value chain development, proposal development in a public or private dynamic organisation.

Demonstrable and deep analytical presentation, communication and selling skills,

Excellent business negotiation and strong client management skills;

A self-starter who can demonstrate initiative, creativeness, vertical thinking and able to pay close attention to detail.

Ability to cope with competing demands, prioritizing tasks and meeting deadlines.

Honesty, integrity, initiative and creative approach to problem solving.
Job application procedure
Interested candidates, who meet the above requirements, should submit their applications, certified copies of academic certificates and transcripts and curriculum vitae giving full details of applicants' education, qualifications, experience (with evidence), present salary, three referees with their full postal address, e-mail and telephone contacts as well as the candidates full address and e-mail to the address below not later than the close of business on 12th February, 2018
Only short-listed candidates will be contacted. Any form of lobbying will lead to automatic disqualification.
NFA is an equal opportunity employer and women are encouraged to apply. Applications should be addressed lo: The Executive Director, National Forestry Authority, -Plot 10/20 Spring Road, Bugulobi , P.0. Box 70863, Kampala-Uganda Tel: 0414-360400; 0312-254035/6