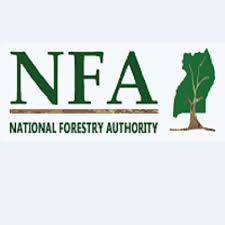 Vacancy title:
Executive Director
Jobs at:
National Forestry Authority ( NFA )
Deadline of this Job:
12th February, 2018
Duty Station:
Kampala, Uganda
JOB DETAILS:
The National Forestry Authority ( NFA ) is a Government agency established under the National Forestry and Tree Planting Act, 2003 as a corporate body responsible for sustainable development and management of Central Forest Reserves (CFRs) and provision of technical support to stakeholders in the forest sub-sector. The Vision of NFA is "A sufficiently forested, ecologically stable and economically prosperous Uganda", while its Mission is "To manage Central Forest Reserves on a sustainable basis and to supply high quality forestry-related products and services to Government, local communities." NFA seeks to recruit a qualified Ugandan to fill the post of Executive Director.
Post: Executive Director
Duty station: NFA Headquarters
Contract Duration: Three years, renewable once
Age: 40-55 years
Main purpose of the job
To provide leadership and maximize the authority's contribution towards its desired growth and profitability targets in line with policies set by the Board. The Executive Director is the Chief Executive Officer and is responsible for the day-to-day operations and administration of the Authority.
Key Result Areas
Sustainable management of forestry resources;

Resource mobilization and organizational sustainability of the Authority;

Governance and organizational stability;

Partnerships established and sustained; and

Appropriate products and services supplied.
Duties and Responsibilities
Ensure the development, review and implementation of the Authority's strategic plans and identify opportunities for its commercial strengthening in line with the Authority's vision, initiate the preparation of annual budgets and operational plans for timely approval by the Board and monitor their implementation in line with the Authority's strategic objectives initiate the development and review of policies tor the organization's physical, human and financial resources

Ensure the proper management of the funds, property and other resources of the Authority

Monitor the overall authority's performance and compliance with financial accounting systems in line with Parliament and Government requirements.

Develop advocacy strategies for networking with the private sector, NGOs, forest-adjacent communities, investors, local councils and other stakeholders in the management of forest resources

implement the Performance Contract agreement between NFA and the Government, and develop entrepreneurial strategies for the Authority's self-financing.

Develop strategies for enforcing NFA's compliance with the relevant legislation, forestry and environmental laws, Government's poverty eradication plans and other relevant policies.
Experience and Key Competencies
Bachelor's (Honours) Degree in a natural resources-related field from a recognised institution.

Master's Degree and relevant experience in Administration, Economics, Finance, Law,

Management, Environment, or technical knowledge relating to Forestry.




At least ten (10) years proven working experience in management of relevant natural resources at Senior Management Level, five (5) of which should have been served as Head of Department and above in a reputable organisation.

Proven and thorough knowledge of investment philosophies in a dynamic and successful concern.

Excellent knowledge of Uganda's forestry and environmental sectors. ,'

Excellent communication skills.

Ability to initiate and manage change in an organisation.

Proven excellent skills in administration, fundraising and lobbying.

Entrepreneurial competences and output-oriented work habits.

Resilient and reliable under pressure.

Strong interpersonal, team-building, negotiation and organisational skills.

High level of integrity.
Job application procedure
interested candidates, who meet the above requirements, should submit their applications, certified copies of academic certificates and transcripts and curriculum vitae giving full details of applicants' education, qualifications, experience (with evidence), present salary, three referees with their full postal address, e-mail and telephone contacts as well as the candidates' full address and e-mail to the address below not later than the close of business on 12th February, 2018
NFA is an equal opportunity employer and women are encouraged to apply.
Applications should he addressed to: The Chairperson, Board of Directors, National Forestry
Authority, Plot10/20 Spring Road, Bugolobi, P.D. Box 70863, Kampala-Uganda
Tel: 0414-360400; 0312-254935/5