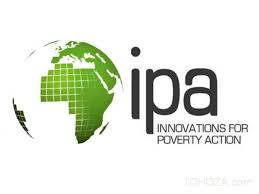 Vacancy title:
Senior Research Associate
Jobs at:
Innovations for Poverty Action (IPA)
Deadline of this Job:
5th February 2018
Duty Station:
Kampala, Uganda
Job details:
Reports to: Research Manager
Innovations for Poverty Action (IPA) is a research and policy non-profit that discovers and promotes effective solutions to global poverty problems. IPA brings together researchers and decision-makers to design, rigorously evaluate, and refine these solutions and their applications, ensuring that the evidence created is used to improve the lives of the world's poor. In recent decades, trillions of dollars have been spent on programs designed to reduce global poverty, but clear evidence on which programs succeed is rare, and when evidence does exist, decision-makers often do not know about it. IPA exists to bring together leading researchers and these decision-makers to ensure that the evidence we create leads to tangible impact on the world. Since its founding in 2002, IPA has worked with over 400 leading academics to conduct over 600 evaluations in 51 countries. This research has informed hundreds of successful programs that now impact millions of individuals worldwide.
Background on the study:
IPA is evaluating a new Ultra-Poor Graduation program in western Uganda in a refugee settlement and nearby host community. The program is based on the Graduation Approach that was found to be effective in a pooled analysis of randomized controlled trials (RCTs) across six countries and published in Science (Banerjee et al. 2015). The Graduation Approach is a holistic set of services for targeted "ultra-poor" households, designed to help recipients build livelihoods while building skills and confidence, along with an asset base to diversify income, protect themselves from shocks and sustain wellbeing. This new evaluation will test the approach with a refugee population as well as test two lower-cost variations of the approach. The lessons from the evaluation will then be applied in a second phase of the project. Principle Investigators on the study are Dean Karlan, Chris Udry, Doug Parkerson, Nathanael Goldberg and Lasse Brune.
Job Summary: The Senior Research Associate should be a highly-motivated and qualified individual with outstanding research project management, data analysis, people management and communication skills as Senior Research Associate, to lead this new impact evaluation of the graduation model. The Senior Research Associate (SRA) will take a lead role in designing survey instruments, conducting qualitative and pilot exercises to inform study and/or questionnaire design, supervising listing exercise, managing survey teams, ensuring data collection protocols are adhered to, ensuring data collected is of highest quality, delivering clean databases, assisting in preliminary analysis, assisting in the writing of project reports and policy memos, and managing communication and relationship with stakeholders (researchers, implementing partners, donors, etc...). The position requires excellent interpersonal and organization skills. It also requires an advanced proficiency with Stata software package. The SRA will be based out of IPA office in Kampala but travel frequently to the location of the study.
Qualifications, Skills and Experience:
The ideal candidate for the Innovations for Poverty Action (IPA) Senior Research Associate job must hold a Master's degree in economics, statistics, public policy, public health, social sciences, or related field;

At least two years of research project experience at a field research management or analyst position;

Proficiency with Stata, SurveyCTO programming language and Microsoft Office tools;

Strong written communication skills;

Excellent command of English, both spoken and written;

Demonstrated commitment to IPA's high standards of data quality;

Excellent management and organizational skills;

Demonstrated ability to coordinate work effectively over email and phone

Flexible, self-motivating and team player;

Demonstrated ability to manage relationships with stakeholders (principal investigators, partner organizations);
Distinct Advantages:
Previous experience with IPA or J-PAL would be a significant asset;

Knowledge of another data analysis or software is a plus;

Familiarity with randomized controlled trials is a strong plus;
Job application procedure
All candidates must send their updated CVs (3 pages max, including three professional references) and cover letter to jobs-uganda@poverty-action.org The applicants must also complete the compulsory on-line assessment available at the following link:
Click Here