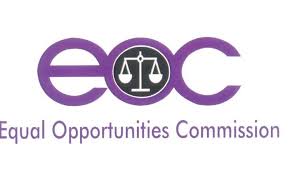 Vacancy title:
Commissioner-Legal Services and Investigations
Jobs at:
Equal Opportunities Commission ( EOC )
Deadline of this Job:
Thursday 15th February, 2018 by 5:00pm
Duty Station:
Kampala, Uganda
Job details:
The Equal Opportunities Commission ( EOC ), established by the Equal Opportunities Act of 2007 is mandated to provide a framework for redressing imbalances, which exist against the marginalized groups while promoting equal opportunities for all.
Post: Commissioner-Legal Services and Investigations
Ref: HRM/EOC/18/01
Salary: EOC1 SE
Reports to: Secretary to the Commission
MINIMUM QUALIFICATIONS AND WORKING EXPERIENCE
Applicants should have LLMI Masters in Human Rights or Social Justice, an Honors Degree in Law from a recognized University/ Institution, a Post Graduate Diploma in Legal particle from the Law Development Center and a Practicing Certificate, Applicants should also be member of the Uganda Law Society. Should have a minimum of ten (10) years relevant working experience, three (3) of which should have been served at a level of Assistant Commissioner in Government or equivalent level of experience from a reputable organization.
Applicants should have the following Core Competencies: Public Sector Management, equal opportunities analysis, Results orientation Ethics and Integrity, interpersonal Communication and Computer Skills, ability to adapt to multi- cultural setting, innovation concerns tor quality standards, technical, interpersonal skills, ability to coach subordinates, report writing skills, Strategic thinking, negotiation skills, team building, conflict management, self-management, policy formulation and development, change management, project management and technical skills.
Duties
The incumbent will be responsible to the Secretary to the Commission for performing the following duties;
Developing and maintaining standards and guidelines on provision of legal services and conducting investigations.

Advising the Commission on legal issues pertaining to its operation as an institution.

Mobilizing legal aid services and establishing mechanisms for their accessibility by vulnerable groups.

Providing legal advice to Members and Staff of the Commission.

Giving legal advice to the Commission clients concerning equal opportunities.

Defending the Commission in liaison with the office of the Attorney General in any suit against it.

Managing and administering the Legal Services and Investigation Department.

Appraising staff performance in the Legal Services and Investigation Department.

Any other duties as may be assigned from time to time.
Job application procedure
The Commission is hereby inviting applications from suitably qualified Ugandans to fill the vacant post declared below: Applications should be made in triplicate on Public Service Form 3 (Revised 2008) and submitted with the following attachments: detailed curriculum vitae (one of the two referees should be the applicants employer), copies of academic transcripts, certificates and three recent passport size photographs, handwritten applications are also accepted.
Applicants shall be requested to present certified copies and originals of their academic transcripts and certificates at the time ot sitting the oral interviews.
The application forms are obtainable from the Public Service Commission Offices, 2nd Floor, Farmers House, Kampala, or can be downloaded from the Public Service Commission (PSC) website: www.psc.go.ug , or at the Equal Opportunities Commission (EOC) Offices, Plot 7, Luthuli Close-Bugolobi. Applications should be addressed to: The Secretary, Equal Opportunities Commission, P.O. Box 27672, Kampala and submitted not later than Thursday 15th February, 2018 by 5:00pm.
The post applied for, together with the job reference should be indicated on the right hand top corner of the envelope. While we thank all applicants tor showing interest, only shortlisted applicants will be contacted.
In case of any clarifications, applicants can call on telephone number: 0414 223 234