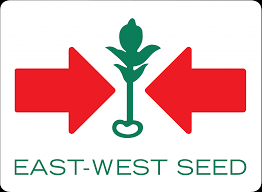 Vacancy title:
Knowledge Transfer Manager
Jobs at:
East-West Seed
Deadline of this Job:
18th February 2018
Duty Station:
Kampala, Uganda
Job details:
East-West Seed Knowledge Transfer works aiming at transferring knowledge to make vegetable production more profitable for farmers by equipping them with the tools they need to succeed: better knowledge and better agro-inputs. This can drive farmers' demand for higher quality agro inputs and create new markets for input suppliers. It has actively formed a base across the world including: Cambodia, India, Indonesia, Myanmar, The Philippines, Thailand, Tanzania and Uganda and expanding to Nigeria and Bangladesh where the company seeks to grow new markets.
Showcasing profitable and sustainable farm practices, the pre- commercial work of East-West Seed Knowledge Transfer catalyzes a demand for better quality agro-inputs in areas which would otherwise be of limited interest to seed companies. Knowledge Transfer relies on a solid business case from East-West Seed, focusing on areas where knowledge transfer can create a conducive environment to develop or strengthen a viable seed market. This directly addresses the knowledge deficit for local farmers and stimulates a healthy, competitive market for improved seeds, fertilizers, safer pesticides, mulch, seed trays and other inputs. East-West Seed Knowledge Transfer approach to training farmers goes hand in hand with market development, thus creating innovative, sustainable solutions. East- West International seeks to recruit an experienced Knowledge Transfer Manager with excellent analytical, seed exposed, good communication and organization skills as per details below:
Job Title: Knowledge Transfer Manager
Section: East-West Seer! Knowledge Transfer (EWS-KT)
Location: Uganda
Reports to: EWS-KT director
JOB PURPOSE:
The Knowledge Transfer Manager will provide strategic direction and support all pre-commercial project activities under the direction of EWS Knowledge Transfer and in close cooperation with project partners. She/he will ensure that all KT activities align to group objectives; to increase the profitability and sustainability of vegetable production with smallholder farmers in areas where the company has long-term ambition to grow new (or strengthen undeveloped) markets.
SPECIFIC RESPONSIBILITIES:
Work closely with Knowledge Transfer Support (KTS) to identity project opportunities

Support with the development of concept notes and project proposals; liaising with partners and cooperating closely with KTS in the design ' and scope of activities

Ensure development of projects is aligned towards KT objectives (1) to increase the profitability and sustainability of vegetable production with smallholder farmers (2) in areas where the company has long-term ambition to grow new (or strengthen undeveloped) markets.

Update and maintain comprehensive project documentation

Provide leadership and strategic direction to a team of Technical Field Officers

Provide coaching and guidance to team to ensure maximum efficiency

Enable delivery of appropriate technical solutions to farmers (methodology and content) through identifying needs of team

Support team of Technical Field Officers to make and implement effective activity plans

Regular visit to project areas to maintain an overview of all project activities

Foster constructive working relationship and closely coordinate activities with NGO partners

Steer KT activities according to project agreements to ensure agreed targets and objectives are met

in close cooperation with KTS, develop and oversee use of budget/s

Ensure finance department has information and documents in timely manner in order for them to make financial reports to partners and KTS

Support team to effectively use KT monitoring tools to provide accurate and up to date information on progress and impact of project activities

Make regular use of data to analyse progress and steer projects

Monitor and track project progress and handle any issues that arise

Participate and network in workshops, meetings and trainings which help increase impact and outreach of knowledge transfer activities

Act as main point of contact for any matters related to pre—commercial knowledge transfer

Pro-actively promote the impact of EWS-KT with relevant stakeholders in government, NGOs and private sector and advocate vegetable production as income opportunity
QUALIFICATIONS, SKILLS AND EXPERIENCE:
MSc in agriculture or a relevant field

Proven experience as a Program Manager or other managerial position 5 years

Thorough understanding of project/program management techniques and methods

Track record in training trainers and farmers

International work experience an advantage

Solid leadership and organizational skills including attention to detail and multitasking

Independent thinking, practically oriented

Analytical mind with problem-solving skills

Good facilitation, communication and people skills

Good understanding of vegetable production and markets in the Uganda

Excellent written and verbal communication skills

Excellent knowledge of MS Office and Google.

Proven experiences working with NGOs, donors and government
Job application procedure
Qualified women are strongly encouraged to apply.
For more information about East —West International and the position, visit our website http://www.eastwestseed.com OR www.issduganda.org
To apply: Interested candidates can send their application letter and CV (max. 3 pages) to ews-international.recruitment@eastwestseed.com . Please D0 NOT attach certificates or academic qualification. Deadline for application is 18th February 2018.