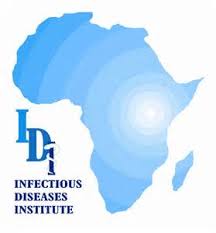 Vacancy title:
Head of Research
Jobs at:
Infectious Diseases Institute (IDI)
Deadline of this Job:
31st May 2018
Duty Station:
Kampala, Uganda
JOB DETAILS:
Background:
The mission of the Infectious Diseases institute (IDI) is to build capacity of Health systems in Africa for the delivery of sustainable, high quality] care and prevention of HIV/AIDS and related infectious diseases through training. research, and advanced clinical services. |Dl has five operational areas through which it works to achieve its mission: Prevention, Care and Treatment, Training, Research and Laboratory services provided through a Partnership with the Makerere University-John Hopkins university Core lab) And out reach
in order to achieve the above, IDI wishes to recruit a motivated candidate to head the Research Department as indicated below;
Job Title: Head of Research Programme.
Vacancy Code: HRPX01
Classification: Technical Full-time
Reports to: Executive Director
Job Summary
The Head of research is a senior management team member and is accountable for the strategic development and OTp9F3Ii0ii6| management of all aspects of the IDI Research Programme, he Head is in charge of the strategic direction and high level oversight of research projects and collaboration at the IDI, the responsible and ethical conduct of research publication, dissemination, and translation of research to policy.
Principal Accountabilities:
Strategic and operational management of research programme (including IDI Kasangati)




Produce and monitor IDI research strategic plan; continually identity Emerging strategic themes For IDI to develop and utilize its current and Potential capacities and to remain relevant and sustainable




Cultivate, develop, and maintain research partnerships in line with the IDI research strategic plan




Develop new proposals review proposals at other members of the department and outside partners to maintain strategic direction and research relevant to Ugandan and African health; and ensure all proposals make an acceptable contribution to IDI core costs




Work closely with the PCT department to ensure smooth collaborative joint research protects.




Carry-out timely and accurate reporting an: financial accountabilities and guarantee that the research department achieves the budgeted core contribution _




Support the integration of research Capacity and different research methodologies into all other programs e.g. ImS to document IDI innovations in outreach, training, lab , GHS and other as well as identify actionable researchable ideas in all programmes and catalyze action
2. Build research infrastructure capacity including at the Kasangati centre centre
Confirm and guarantee sufficient lab capacity and specimen storage services




oversee data management unit and systems including data fax




Certify and guarantee that internal monitoring for QA/QC occurs




Certify that international standards for ethical scientific review and conduct of research are in place for all IDI or partner research projects




Streamline IDI process for the efficient conduct of research
3. Capacity building programs
provide oversight and guidance to the research scholars across the IDI capacity-building grants Capacity-building grants




Build and publicize IDI programs at the Makerere College of health sciences, Ministry of Health other health organizations in Uganda and the region Sciences. in the region




Build international partnerships and networks including convening the annual SAB as we l as other international visitors




Build and maintain clinical platforms for research in urban and rural areas where IDI manages outreach protects




Oversight tor Research metrics — keep track and disseminate metrics relate to publications and abstracts as well as research proposals

Build and maintain research resources




longitudinal databases, research cohorts statistics clinical trials training unit, translational laboratory (repositories)




Cultivate a collaborative relationship with the IDI Lab Services programme and other labs that are necessary for the efficient conduct of research at IDI




Take responsibility for budgets and financial management for the research department including monitoring of core cost contribution of all new research proposals research




Take responsibility to co-ordinate and respond to all internal audits evaluations of research




As part of SMT contribute to the overall strategy and management of IDI and regularly produce reports and materials for the Board' and other key stakeholders
Required Qualifications:
A qualified medical doctor with a Master's degree in a relevant field. Possession of a PhD will be added advantage _




A compelling track record in research (indicated by peer-reviewed publications) _ _ _ ' _




Demonstrated minimum of five years'experience leading and mentoring a research team and a proven ability to solicit research grants




A balance of global experience including substantial experience in a Resource-limited setting.
Required Knowledge, Abilities and Skills:
Self-driven with strategic vision and the leadership skills to achieve the research strategy _




An established researcher within the field of infectious diseases with a compelling publication record in peer-reviewed journals




Exceptional written communication skills and the ability to interact internationally at the most senior institutional, funder and academic levels; Demonstrated research grantsmanship




Experience in identifying evaluating and nurturing partner relationships in research




Ability to foster a co-operative work with sensitivity to cultural factors

Demonstrated commitment to building research capacity in Africa

Experience in financial management including generating and managing budgets
Job application procedure
IDI will offer a competitive remuneration package to the successful candidate candidates that know they meet the above criteria and have what it takes to excel in the above position, please send their CV, which should include details of email address (if any) present position, current remuneration, certificate/testimonials and address of three (3) Referees plus telephone contact to the stipulated email address not later than 31st May 2018 (email your application and cv to hr@idi.co.ug and lets save the environment).
Key Notes:
IDI is an equal opportunity employer and does not charge a recruitment fee or any other fee at any stage of the recruitment process




Internal candidates who meet the required specifications and have worked with IDI for a period of at least one year will be given priority




Make sure that your application letter CV and certificates are attached as one document




indicate the Vacancy Coda as the subject for your email




Only short listed candidates will be contacted




Any form of canvassing will lead to automatic disqualification
The Senior Human Resource Manager
Infectious Diseases Institute - IDI Knowledge Centre, Makerere
University Main Campus
College of Health Sciences, Makerere University
P.O. ox 22418, Kampala, Uganda