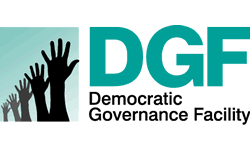 Vacancy title:
Consultancy
Jobs at:
Democratic Governance Facility ( DGF )
Deadline of this Job:
Monday 11th June 12:00 (noon)
Duty Station:
Kampala, Uganda
Job details:
The Democratic Governance Facility ( DGF ) is a multi- donor funding mechanism aimed at strengthening democratization, promoting and protecting human rights, enhancing access to justice, and improving accountability in Uganda.
Building onto the achievements of its first phase (2011- 2017), the DGF is implementing a five years (1st January 2018 to 31st December 2022) governance programme funded by seven development partners: Austria, Denmark, European Union, Ireland, the Netherlands, Norway, and Sweden. The programme will be implemented in partnership with over 50 state and non-state implementing partners (lP) at national, regional and district levels throughout the country.
The general objective of this consultancy is to develop a capacity assessment tool that will enhance DGF's lP capacity strengthening processes and interventions based on recommendations from in-depth and comparative capacity strengthening tools survey. Specifically, the scope of work is expected to be as follows:
Conduct survey and compile an in-depth analysis of different capacity assessment tools; their administration and including their pros and cons;

Review capacity assessment tools against DGF needs and make recommendation to DGF on appropriate/ relevant capacity assessment tool (or aspects of tools) to use;

Based on 1 & 2 above, develop, create or modify a capacity assessment tool tor DGF;

Conduct mapping of organizational development (OD) capacity strengthening service providers; highlighting their programmes, content and methodologies used.
The assignment is expected to commence early July 2018 and should be completed within 30 working days. The maximum budget for the contract is DKK 200,000,- incl. VAT.
The deadline for submission of EOls is Monday 11th June 12:00 (noon) Denmark.
Job application procedure
Please visit the following websites to find more information about the opportunity and instructions as to how to apply:
https://www.udbud.dk/Pages/Tenders/Show-Tender?tenderid=43826
http://um.dk/en/about-us/procurement/contracts/short/contract-opportunitie