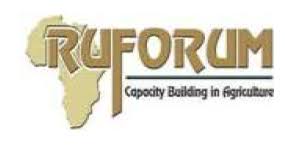 Vacancy title:
Systems Accountant
Jobs at:
Regional Universities Forum for Capacity Building in Agriculture (RUFORUM)
Deadline of this Job:
30 September 2018.
Duty Station:
Uganda
JOB DETAILS:
We are retained by the Regional Universities Forum for Capacity Building in Agriculture (RUFORUM) to identify competent individuals to fill the following posts: Deputy Executive Secretary, Programme Development & Implementation (DES PD&I); Technical Specialist, Youth Services Development & Community Engagement (TS YSD & CE); Technical Specialist, Policy Analysis (TS-PA); Technical Specialist, Research and Development (TS-R&D); Internal Auditor (IA); and Systems Accountant (SA). All the positions are based at the RUFORUM Secretariat in Kampala, Uganda.
RUFORUM operation is guided by its Vision 2030 Strategy (The African Universities' Agenda for Agricultural Higher Education, Science, Technology and Innovation - AHESTI), which is being implemented through four Flagship Programmes. Visit RUFORUM website. Prospective applicants are advised to review the RUFORUM Vision 2030 Strategy and the Five Year Operational Plan (2018-2022). The job roles and requirements of the posts are detailed below
Post: Systems Accountant
Job Role
Reporting to the Senior Finance Officer, the Systems Accountant will perform the following roles:
Implement financial management system or accounting software

Monitor, evaluate and analyse feedback on performance of the financial management systems to ensure it is user friendly and that all finance and accounting functions remain efficient

Ensure that transactions on the financial management system comply with RUFORUM and Donor financial policies and procedures

Track financial transactions on the financial management system for accuracy and generate financial reports as required by management

Track and reconcile grants to Member Universities and accountabilities

File monthly returns related to PAYE, NSSF and Withholding Tax

Identify financial information needs of RUFORUM and in liaison with ICT Unit, conduct systems re-scale or upgrades to accommodate additional new critical features or financial functions, improve on existing ones or remove those considered obsolete

Provide decision support and risk management within financial services delivery areas

Develop effective financial control mechanisms within the environment of the financial management system

Provide security and safe custody of all finance document including vouchers and contracts
Job Requirements
Bachelor degree in Commerce, Finance, Accounting, Business Administration (finance or accounting option) or professional accounting certification like Association of Chartered Certified Accountant (ACCA), Certified Public Accountant (CPA), Certified Management Accountant (CMA)

Additional post-graduate qualifications or training in Systems Analysis or Computer Science

Five year experience in similar work in a recognized organization

Ability to use financial and accounting software applications

Should be a team player

Ability to undertake critical analysis of financial processes and financial control mechanisms and solve problems on finance and accounting

Ability to prepare accurate and quality financial reports according to prescribed reporting formats

Ability to focus on quality of financial delivery systems

Ability to effectively communicate financial information

Knowledge of accounting systems implementation
Terms and Conditions
These are regionally recruited positions which offer attractive remuneration packages. The positions are open only to Nationals of Member States where RUFORUM operates (See Map showing RUFORUM Footprint). The initial contract period will be for 3 years, subject to probationary period of six months. .
Job application procedure
Applications with detailed curriculum vitae (in pdf form), copies of certificates, transcripts, names of three referees and the applicant's Skype Address; daytime telephone contact should be sent online to our E-mail with the subject Appointment in RUFORUM followed by the Job title. For example "Appointment in RUFORUM: Systems Accountant"
Email address: damaconsultantsltd@gmail.com
Any form of canvassing will lead to disqualification. Only short listed applicants will be contacted.
Closing date: 30 September 2018.
Note: Applications will continue
to be received and considered until the right candidates are identified