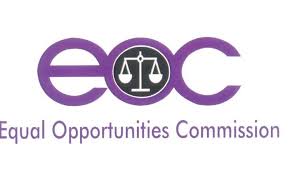 Vacancy title:
Legal Officer
Jobs at:
Equal Opportunities Commission ( EOC )
Deadline of this Job:
Friday 26th September 2018 by 5:00pm
Duty Station:
Kampala, Uganda
Summary
Date Posted:

27th August 2018

, Base Salary:

Not Disclosed

, Employment Type:

Full-Time
JOB DETAILS:
The Equal Opportunities Commission ( EOC ),established by the Equal Opportunities Act of 2007 is mandated to provide a framework for redressing imbalances. which exist against the marginalized groups while promoting equal opportunities for all.

POST: Legal Officer
REE: HRM/EOC/3/18/18
Salary Scale: EOC4
Reports to: Principal Legal Officer

TERMS OF APPOINTMENT:
Three (3) year renewable contract subject to satisfactory performance

DUTIES AND RESPONSIBILITIES:
Compile a full brief of evidence to support a criminal prosecution

Appear in Commission proceedings and give evidence on matters relating to offences investigated in line with the tribunal management policy and procedures

Responsible for preparing, reviewing and advising on drafts of all contracts, licenses and undertaking of the Commission.

Oversee the receipt and processing of complaints and advise on action to be taken in accordance with EOC tribunal management policy guidelines.

Conduct equal opportunities complaints management and evidence gathering process in line with the set policies and procedures.

Provide Public education and awareness and promote safety in order to reduce the incidence of accidence and emergencies and bylaw infractions.

Research and write legal materials for and on behalf of the Commission.

Contribute to and write policy submissions on behalf of Commission



KEY COMPETENCES:
Considerable knowledge of research and analysis methods.

Some knowledge of the nature and use of tools of legal study.

Some knowledge of the preparation of briefs and arguments for the trying of cases before state Commissions and Courts.

Ability to write and speak effectively.

Ability to use judgment, tact and discretion.

Ability to quickly assimilate oral and written data, to analyze facts and draw logical 'conclusions

Ability to interpret and apply laws, rules and regulations relative to the work.

Ability to maintain records, and prepare reports and correspondence related to the work.



MINIMUM QUALIFICATIONS AND EXPERIENCE:
Honours Degree in law from a recognized university plus a postgraduate Diploma in legal practice from Law Development Centre.

A Postgraduate Diploma in law.

Working experience of at least 2 years in law practice or in social justice Sector.
Job application procedure
The Commission is hereby inviting applications from suitably qualified Ugandans to fill the vacant positions of Principal Legal Officer and Senior Accounts Assistant. Applicants should submit their applications using Public Service Form 3 (2008) with the following attachments in triplicate: detailed curriculum vitae (one of the two referees should be the applicants current employer or most recent employer), copies of academic transcripts, certificates and three recent passport size photographs. Handwritten applications are also accepted.
Applicants shall be required to present certified copies and originals of their academic transcripts and certificates at the time of sitting the oral interviews. The application forms are obtainable from the Public Service Commission Offices, 2nd Floor, Farmers House, Kampala, or can be downloaded from the Public Service Commission (PSC) website: www.psc.go.ug , or at the Equal Opportunities Commission (EOC) Offices, Plot 7, Luthuli Close-Bugolobi. Applications should be addressed to The Secretary, Equal Opportunities Commission, P. O. Box 27672, Kampala and submitted Not later than Friday 26th September 2018 by 5:00pm. The advert may also be accessed on Equal Opportunities Commission Website; www.eoc.go.ug .
The post applied for, together with the job reference should be indicated on the right hand top corner of the envelope. While we thank all applicants for showing interest, only shortlisted applicants will be contacted. In case of any clarifications, applicants can call on Telephone number: 0414 223 234