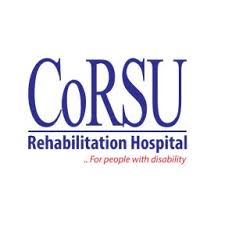 Vacancy title:
Stores Manager

Jobs at:
Comprehensive Rehabilitation Services for People with Disability in Uganda (CoRSU)

Deadline of this Job:
Tuesday 14 August, 2018 at 5:00pm

Duty Station:
Kampala, Uganda

Summary
Date Posted: 6th August 2018 , Base Salary: Not Disclosed , Employment Type: Full-Time
JOB DETAILS
:
Comprehensive Rehabilitation Services for People with Disability in Uganda (CoRSU) was established in 2006 as a private non-profit. non-governmental organization and is supported by CBM (Christian Blind Mission)
CoRSU provides Orthopedic Surgery, Plastic Surgery and Rehabilitation' mainly for children with disability CoRSU Hospital is urgently looking for capable and dynamic potential professionals m the field project planning and management to fill the position of:
CoRSU Hospital is urgently looking for young and dynamo potential professionals in the following field:

Stores Manager:
Reports to: Head of Finance
Supervises: Stores Assistants
Objective of the position:

The position holder is responsible for participating in and overseeing the ordering' receiving' inspecting storing issuing of equipment sundries materials and supplies for various departments

Performs a variety of receiving activities stores and distributes supplies and equipment maintains inventory and stock record and perform related work as required.

This position involves data entry and very physical work that may consistently require lifting. carrying, pushing' pulling or otherwise moving heavy objects equipment and/or supplies

Qualifications, Skills and Experience

Essential
Graduate Degree in Stores and supply. Chain management or Procurement with a bias in Stores and supply Chain management.

Good computer skills (MS Word, Excel and PowerPoint

Three (3) years hands-on experience in receiving, stocking and delivering medical supplies at management level

Familiarity with operating computerized recordkeeping systems

Ability to interact and work with all staff members and medical personnel, in a helpful manner

Perform Color Determination, Carrying. Climbing, Pulling and/or Pushing for long hours.



Desirable
Related training in Medical Technology and certified training in Stores! supply chain

Preferable to have Medical Stores background.

Profound knowledge of warehousing activities, store operations. and inventory management practices

Ability to prepare and keep correct and current medical store records

Outstanding knowledge of governmental and international agency regulations and Procedures

Ability to operate a limited access facility



Job application procedure
Capable People with Disabilities (PWDs) are encouraged to apply. NB: Qualified Persons should submit their applications (detailed CV with cover letter plus copies of Academic Qualifications) to The Head of Human Resources and Organizational Development, P.O. 45 Kisubi or email to recruitment@corsuhospital.org . Note that only shortlisted candidates will be notified for interviews. The closing date for receiving applications is Tuesday 14 August, 2018 at 5:00pm